I recently had few conversations on Twitter with Viper007Bond about SSDs (I totally dig my Kingston one) and CrystalDiskMark came up as benchmark tool. I had previously posted about CrystalDiskInfo and this one is another utility from same developer. It tests drives for read and write speeds.
What it does
App performs number of repeated tests (five by default) on selected drive partition and reports read and write performance. It uses both sequential and random (with different block sizes) tests.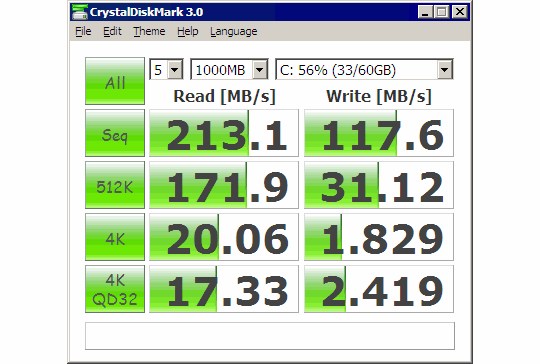 Test data size defaults to 1GB with recommendation to lower for slow drives (such as generic flash drives).
Strong features
Very easy to use (just hit All button to run tests), single-screen interface, easy to interpret results.
Text report can be copied to clipboard from menu (Edit > Copy) and additionally includes IOPS values.
Downsides
Background graphs are not to scale. I found no explanations how are they scaled so for me they are more confusing than helpful. Better to stick with raw numbers.
Needs and wants
It could use more complex interface, capable of testing several drives and showing them side by side.
Overall
Straightforward and user-friendly app, open source, portable version available. Popular enough to come up in many tests and reviews online so it is always easy to google up results for comparison.
Home http://crystalmark.info/software/CrystalDiskMark/index-e.html
Download http://crystalmark.info/download/index-e.html#CrystalDiskMark
Related Posts