I always treated viewing SMART as something plenty of tools like PC Wizard have. Each time I needed to look at those numbers I had to dig for them inside of one or another utility that mostly does something else.
I gave up and decided that having separate app is worth it to save some clicks and nerves. As it most often is, Nirsoft provides one – DiskSmartView that allows to quickly and efficiently see SMART for all drives in the system.
What it does
On load app displays basic information (like model, serial number, transfer mode, etc) and detectable SMART parameters for all drives in the system.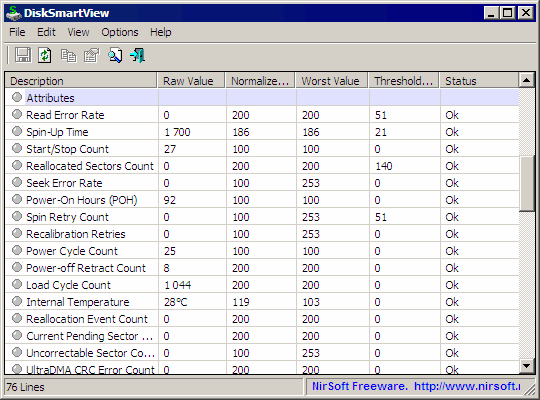 Parameters are evaluated to status. There are also indicators, that I assume go colorful on issues, but I had no chance so far to use it on faulty drive.
Strong features
There is not much to play with in displaying SMART parameters. What I like in this one is that temperature is properly converted to degrees, something many apps fail or don't bother to do.
Downsides
It would really make sense to show general info for all drives in the system, but app limits itself to SMART-capable only.
I keep joking about Nirsoft apps and columns, but this is seriously the case where form does content no good. Rows blend together. There are no drive letters in sight, so it is pain to figure out what is what. Fine for single drive, but no so much for anything more than that.
Overall
Straightforward and natively portable app that lacks in interface department, but makes up for that in speed and simplicity.
Home&download http://www.nirsoft.net/utils/disk_smart_view.html
PS and I have to remind that bad SMART is trouble, but good SMART doesn't mean there is no trouble.
Related Posts