Post on software I don't get brought a lot of discussion (trying to straight my wrong ways mostly). One of my readers szekelya was very vocal in support of ClipX app that enhances clipboard functions.
There were few more I had bookmarked to check out, but ClipX seemed like least trouble so I started with it.
What it does
ClipX is tiny utility that sits in memory and makes a log of things copied to clipboard:
text strings;
images;
file lists.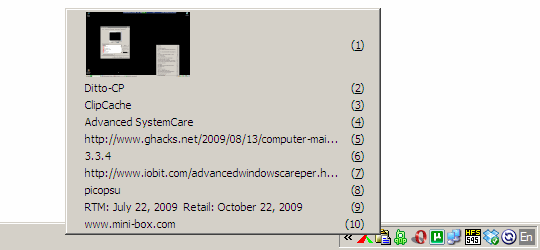 It doesn't interfere with regular paste, but on Ctrl+Shift+V hotkey (or tray menu) context-like menu with all logged thinks shows and any of them can be quickly selected to paste.
Strong features
flexible configuration;
doesn't interfere unless asked to;
tiny, completely portable (may require launch with –p argument) and overall unobtrusive.
Shortcomings
While ClipX does complement regular feature set of clipboard nicely and I warmed up to the idea overall… I can't say I liked this specific app.
interface is example of minimalistic ending up as poor usability – choosing one of multiply snippets fast is hard;
may interfere with other software, such as Microsoft Office clipboard manager;
eats insane amount of memory and crashes on extra-large copy/pastes (had to disable when working with my AutoIt/Excel data reading experiments). There is plugin to enforce size limits, still it is weird for that to not be native feature.
Overall
I have to admit it is sometimes nice to easily recall something copied while back. But I am not hooked on this particular app – it lacks in usability and (I feel) some kind of snippet managing functions.
Good introduction to concept. May leave hungry for better features.
Home&download http://clipx.org/
Related Posts