Friend had asked me to help with fans getting old and noisy in his PC (which I put together for him couple years ago). One of the issues was that he has more fans in case than motherboard could handle. As result some were connected to power supply and run at max, some were disconnected altogether.
I had suggested to buy set of better fans and route them through fan controller. Out of few models suggested he picked Zalman ZM-MFC3 controller with extras of temperature and power load measurement.
Looks and build
Panel fits into five inch slot of case and is about one third of optical drive in depth. It turned out to be more convenient to set it up outside and then get into case.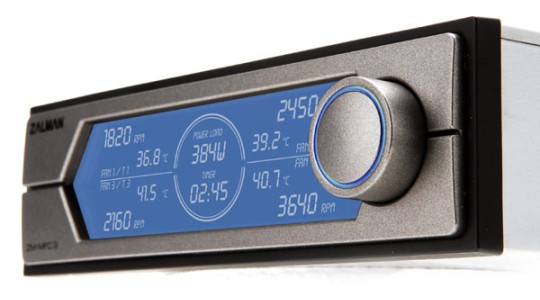 It has greyish color that will go nicely with any dark case. Most of it occupied by screen and single knob for control. The one issue with knob is that if you have case with door over front panel, knob is large enough to prevent it from closing properly.
The power to the controller is provided by single molex connector. Which is somewhat flimsy and sits on circuit board, rather than case. I was afraid to break it when connecting.
Fan controls
Controller supports three (four with bundled Y cable) 3-pin voltage-controlled fans and one 4-pin PWM-controlled one. The RPM of each connected fan is displayed on screen and can be individually adjusted.
There are also wires to extend to fans further away and pass-through connector for in between CPU cooler and motherboard.
Temperature sensors
There are four temperature sensors and small bits of transparent tape to fix them in place where needed. On screen temperature readings are grouped one by one with fans, which might or might not make sense in specific setup.
Power load
Power load meter looks like a large power brick from some gadget and goes between power line and PSU. There is a bracket for back of case, which accept signal from it (confusingly using USB connector, which it isn't) and forwards to controller.
Overall
Most convenient way to deal with multiple fans ever. Having RPM, temperature and control in one place is great. The construction could use some improvements (smaller knob, sturdier connectors in the back) but functionality itself is great.
Link http://www.zalman.com/ENG/product/Product_Read.asp?idx=341
Related Posts