I had suddenly remembered this game, I hadn't played in years. Since I don't play much lately I rarely come up with good free games for posts (like once a year rarely) and decided to revisit Rumble Box and see if it is still worth attention.
And it definitely is – one of the most action packed and intensive freeware games I remember.
Gameplay
Game is essentially one vs many fighting with few interesting twists. Both your character and enemies are differently colored ragdolls. You have range of attacks and moves (yay), enemies are specialized from harmless to those that work in groups and sacrifice comrades to take you down.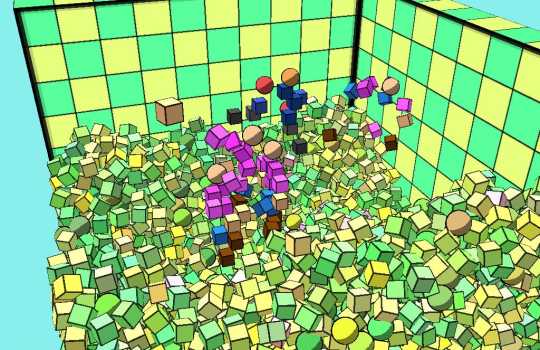 By destroying enemies arena is filled with their parts. When parts reach top at any edge you can run out and finish level.
Strong features
Game is simply yet has exceptional balance of playing against enemies, against arena you need to fill and against time all at once. Oh and by the way the real point of the game is not level completion, but gaining high score.
Combination of multiple aspects let you have very different styles how you can play it out – from calm and collected precise strike to hurricane bashing everything that moves. From using rapid straightforward jabs to figuring out complex combo attacks that bring bonus points.
Downsides
As many games of this kinds this has two usual downsides:
it feels kinda pointless;
is seemingly lacks depth.
Just don't treat as game to finish, but as game to pass the time.
Screen resolution defaults to 1024x768 and can be changed in Data/GFXConfig.dat file, but there is no proper widescreen support.
Overall
Your mileage will vary with how much time you will want to spend on this one (and how much you will actually spend :) but it is very likeable fast-paced game.
Home http://www.phackett.com/rumblebox/
Download http://www.phackett.com/rumblebox/download.htm
Related Posts