I was reading Rick's What's On My PC blog and Resnooze button in his sidebar caught my attention. Turns out it is interesting and minimalistic web service for setting up reminders that are sent to you via email.
What it does
Resnooze allows to set reminders that will be delivered by email at specified time intervals (daily, weekly, monthly or custom interval).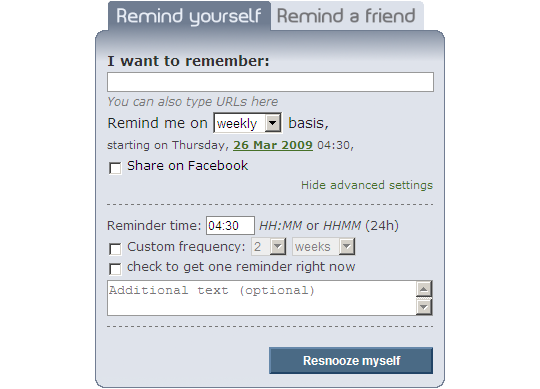 It combines simple setup with good delivery method – task list of any kind can be ignored but it is harder to stop checking your email. :)
Reminders
There are few ways to set reminders:
from Resnooze homepage;
by following widget-like link elsewhere;
by emailing to your personalized Resnooze email address.
Site also has list of common public reminders (empty cat's litter box, walk dog, call girlfriend, etc) and reminders can also be sent to other users by using option at site or sending them link embedded in reminder email.
Account
To start receiving reminders you must confirm it in first incoming email. After that by following any link from email to Resnooze site you are logged in to "passwordless" account. No need to register or remember password and still full access to your reminders. That is just brilliant approach.
After such "light" registration full account can be created with customized login/password and some kind of Facebook integration (whatever that Facebook thing is).
Needs and wants
It could use option to set one-time reminder for specific date and RSS support. I mean anything could use RSS support and what already has one could use second. :)
Overall
I am no fan of web apps but this service is awesome. There was a lot of thought put into how it all works together and choice of email as delivery medium is perfect. It doesn't try to compete with bulky getting things done portals and ends up more usable and simple solution in case you only need some repeating reminders.
Related Posts