Fast and accurate translation between multiply languages is one of the most challenging computing tasks. A lot of companies specialize in area and plenty of those offer limited dictionary and translational services online.
And there is also Google (there is always Google). Nice Translator is online app that uses Google Translate APIs for fast translation from many to many languages.
What it does
Site offers real-time translation of words you type in form.
You can (and have to) select one or more languages to translate into.
Language you type in will be auto-detected, but can be specified as well.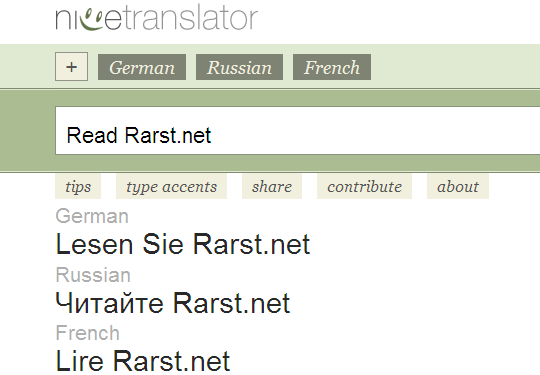 Simple as that. There is no need to actually submit form or refresh page. Translation will begin to appear outright and adapt as you type words further.
Additional ways to use
Where some would be content with working online app, developers of this one went much much further to offer every additional option:
URL parameters for easy scripting and browser integration;
WordPress plugin;
generic JS widget.
Downsides
While it performs dictionary function perfectly, I miss a bit additional features of original Google Translate. Like quick translate of web page on URL input.
It is slightly out of focus, but it won't hurt to have such secondary functions somewhere in the corner for when it is needed.
Overall
Convenient and streamlined online dictionary which brings you Google technology, but with decent design. :)
Link http://nicetranslator.com/
Related Posts