Operating system is always quite busy on the inside. Until you see mayhem with something like Process Monitor you don't really feel the scope. When such internal and background actions touch possibility of private information leaking it makes people worried. Windows has no single tool to control related settings.
xp-AntiSpy is utility that offers collection of tweaks, related to security of Windows installation and the ways it may leak private information.
What it does
As many similar utilities this one is essentially wrapper for collection of registry tweaks. Interface allows to see current state of various settings and modify them.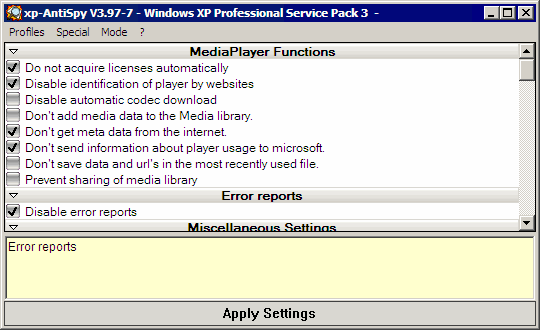 On first launch app offers to create profile of current setting so that it is always easy to roll back changes.
Strong features
Selection of tweaks is specialized and comprehensive. It covers all topics that commonly come up in relation to privacy and security – from Internet Explorer to system services.
App supports profiles (and option to create your own) that allow to make changes in bulk for desired effect. Native profiles are:
set, suggested by developer;
Windows Update defaults;
system defaults.
Downsides
Profiles color-code checkboxes when triggered and, as for me, do that in confusing way. It is probably best to go over help file so you clearly understand what changes are being made.
App is still being developed, but it wasn't tested or updated for versions of Windows after XP. According to developer it should still work as long as registry keys remain same.
Overall
Specialized tweaker that performs its task perfectly. Works without installation. Has small sponsor search bar in interface and can be considered adware.
Home http://www.xp-antispy.org/
Download http://www.xp-antispy.org/index.php/en/download
Related Posts