I had posted about software related to hard drive and network performance more than once. Theory behind it is very interesting but in the end it is how fast file gets here from there or backwards.
LAN Speed Test (I had picked up from review at gHacks) is very basic and solid benchmark that tests transfer speeds with close to real usage file read and write operations.
What it does
App writes file to chosen folder and reads it back. As simple as that. It has nothing to do with background theory and everything with real file transfer.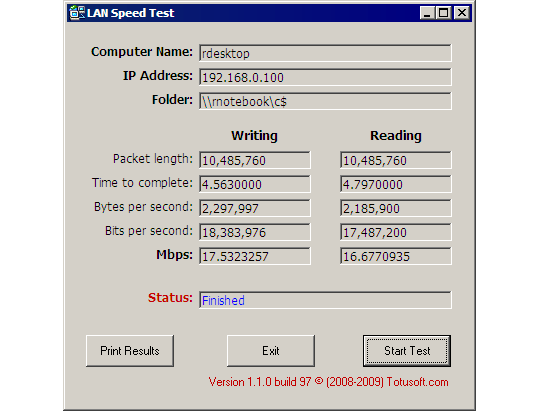 Only other parameter to choose is test file's size (defaults to 100MB) so you can both run quick or prolonged tests. App also handles Windows file cache so it doesn't interfere.
Strong features
So simple it is brilliant. App skips usual graphs and such to give you real numbers:
how long file operation takes;
how fast is factual transfer speed.
It works just fine with local or network folders. Even worked with admin share, only had to type in path. As such it has no need for remote client and can be used over network easily and unobtrusively.
Downsides
Basic concept is good, but basic interface not so much. App has no capabilities to do anything except single test (batch testing is something benchmarks should have). No way to easily save or export results, can only be printed.
Overall
Hardly powerful benchmark tool, but value is in simplicity here. Test important parameters that make sense to user – simply and efficiently. Freeware and portable.
Home http://www.totusoft.com/Products
Download http://www.totusoft.com/downloads
Related Posts