Today I had spent 7 hours neck-deep in troubleshooting exceptionally crappy PC. :) Closer to end of it I was absolutely sure I'll end up writing post on some troubleshooting app today. Only problem I was bit lost which one to pick.
While most troubleshooting software is focused on fixing stuff there is more important task - figuring out what requires fixing. System monitors are not very popular and since most of information is provided by Windows itself making them is often matter of imagination (in drawing indicators) and not functions.
TinyResMeter is one of the less known gems in this category. It is one of the first apps I start on troubleshooting run.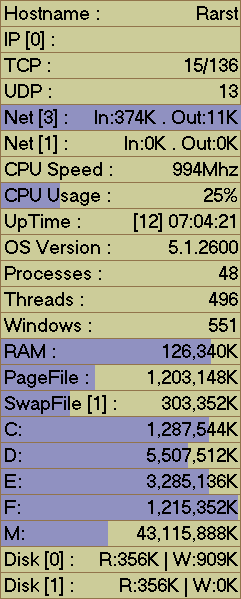 TinyResMeter aims to fit in very simple formula - maximum useful information in minimal package. Program itself is single executable of tiny (54Kb) size that is totally portable and not dependant on any external libraries.
Indicators to display and various display options (font, size, transparence, etc) are all customizable, see image to the right for setup I use. All options are accessed from menu triggered by right-clicking TinyResMeter tray icon. Right-clicking indicators show additional data for clicked indicator (if available) and option to copy values as text.
Memory consumption is dependant on indicators chosen and can be relatively high (my setup eats ~15Mb) but CPU load is always very light.
There is nice extra function of improving PrintScreen that makes it save screenshot full-auto instead of sending it to buffer. Not very powerful but often obliterates the need to launch separate screenshoting tool.
Indicators themselves are nice balance of names, values and graphical bars where needed. Only thing they lack is highlight of critical values so it's better not to clutter setup too much and only keep relevant ones visible.
TinyResMeter may not be best system monitor for everyday use (I use another one for that, post on it upcoming) but it's definitely best and most useful system monitor to have on flash drive.
Home&download page http://perso.accelance.net/~pesoft/trm/us_trm.html
Related Posts