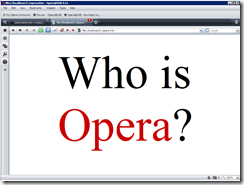 Browser is pretty much only application people run 24/7/365 nowadays. "Browser wars" is synonym to the history of Internet. There are no deals and no compromises - only goals.
Opera browser, which recently got upgraded to 9.5x version, is hardly viewed as valid competitor judging by the holy "usage share" numbers. Still somehow it is still mentioned a lot, tested a lot, compared with a lot and even (at times) manages to annoy fan armies of others with its' stories of success.
Where it really stands?
On the downside Opera is plagued with misconceptions born from its' long history (or simply ignorance).
Being adware/shareware - is really part of that history but even years after Opera went completely freeware there are still people who heard that, remembered and easy to tell others this dusty fact.
Lacking features/extensibility - weirdest of all, people are so fast to scream "it can't do that!". It can and it does.
Lacking compatibility - sites doesn't work in Opera. Oh, but they perfectly do. Not when competitors raise war flags and make dirty attacks, but it's very hard to encounter problematic pages even if using it daily as main browser.
And finally - no one is even using it, right? It's true that Opera seems tiny when valued in percent, but in reality that tiny percent equals twenty millions of people, much more than lots of popular software in general can boast.
What it really offers?
Highly compact, integrated and truly cross-platform Internet suite. Opera runs on pretty much any mainstream hardware and software. PCs, game consoles, smartphones… If it can connect to net - it runs Opera while using same consistent core (except J2ME based Opera Mini which is success enough to deserves separate story). One of the latest features called Opera Link adds to this wide field by allowing to sync bookmarks using online service.
Out-of-the-box experience - while not all of it may not satisfy demanding user Opera still provides complete online experience, aside from browsing part it has powerful M2 mail client and RSS feeds reader, IRC client, download manager (torrent support included) which total to very serious functions set.
Innovation - Opera is the browser that was first to implement such features as tabs, integrated search engines, very functional zoom, small screen rendering and many more. While being follower in number of user Opera is often being followed in interesting new features.
What they got wrong?
It's actually very hard to say for sure. Was it adware past? Or shallow marketing? And why in some countries Opera user share suddenly soars as high as 20% (or even more) - so unlike rest of the world?
Anyway Opera may be winning or losing war. But neither affect the fact what a nice example of software it is. :)
Home page http://www.opera.com/
Download page http://www.opera.com/download/
While not being officially portable Opera is easy enough to convert into one. Popular example (stand-alone and U3 versions):
Opera@USB home page http://www.opera-usb.com/
Opera@USB download page http://www.opera-usb.com/download.htm
Related Posts