Layered Service Provider is Windows feature that allows software to tap into all of network traffic. It is widely used by antivirus monitors, network monitors and malware (what isn't?).
It is also likely to ruin network connectivity if anything in the LSP chain is damaged. Some utilities like WinSock Fix can reset it completely. LSP-Fix is more accurate and allows to remove specific LSP entries.
What it does
App is typical tiny single-screen utility. On run it presents overall verdict on presence of problematic entries and offers two columns with stuff to keep and to remove.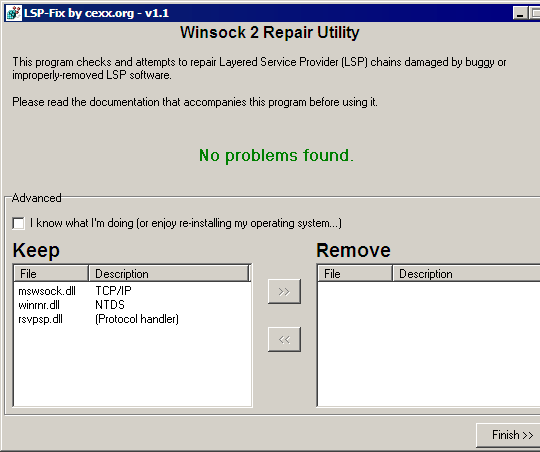 Native Windows entries are detected and selected to keep automatically. Going on with changes requires making check to agree with warning (I wish more apps had such).
Overall
LSP-Fix hits that nice balance where there is still very few clicks required but gives a margin of control. Works without installation to save the day (or nuke what is left of it).
Home&download http://www.cexx.org/lspfix.htm
Related Posts