Upcoming Firefox 3.1 starts to get its usual share of hype press. Martin of gHacks made a post on it today starting with new tab preview feature (following chain his source was mozillalinks.org).
Not trying to be mean - it does look cool… but "dramatic update" (as mozillalinks put it) are bit too colorful words for it. :)
Anyway it's the point when Opera users could make bored face and say "we had this like ages ago" but unfortunately Opera leads in tech but follows in marketing. Tab preview in Opera is disabled by default. I hadn't seen a single Opera installation with it enabled - users mostly don't know about it and don't bother with exploring settings.
How to turn it on?
Opera got ability to generate previews around early 9.x versions. It is enabled for tab tool tip by default and looks like this: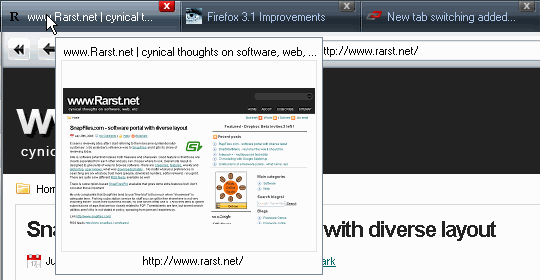 But cycling tabs (triggered by Ctrl+Tab or Right Mouse Button+Scroll) despite being perfectly capable of using this feature had it disabled by default and retained its boring look:

Time for some settings magic!
Main menu > Tools > Preferences > Advanced > Tabs (Alt+P hotkey to skip some steps)

Check "Show thumbnails in tab cycle" and cycling becomes much more informative:

While we are at it you can also try another cycling order. Default makes a list in order you hopped between tabs, but there is also chronological order. It makes easier to see what came first if you are following chain of links. "Cycle without showing list" will prevent both list and tab preview from showing.
Maybe not as flashy as upcoming Firefox analogue… But we had this like ages ago. :)
Related Posts