Bookmark function is perhaps second most important thing in any browser (right after "back" button). It is also very easy to use - bookmarks menu and supporting pieces have prominent place in interfaces.
Such simplicity and polished usability makes people overlook the fact that bookmarks had long graduated from basic remembering stuff (you don't want to) into great instrument.
So what can they do on top of usual? Taking Opera as browser example - a lot.
Import and export
If you are fresh Opera user it provides plenty of options to import bookmarks (and export as well). Access them at Menu > Settings > Import and Export.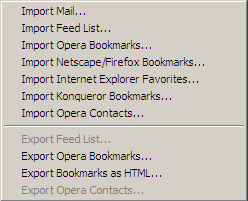 Create bookmark
Bookmarking process can be triggered in few ways:
Menu > Bookmarks > Bookmark page
Ctrl+D keyboard shortcut
right-click on link > Bookmark Link
Bookmark panel (F4 hotkey to show panels) > Add
Pick whatever method you like. And this is how it looks like: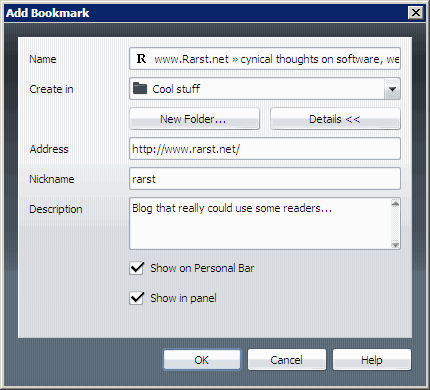 Name, Create In [folder], Address and Description are obvious and common.
Access pages by typing their short names
"Nickname" allows you to open bookmark by typing its' name where usually page address goes. In my example it makes "rarst" equal to "https://www.rarst.net" for browser. Secret wisdom - nicknames can be created for folders that hold bookmarks. In bookmark panel/manager > right-click folder > properties. Using such nickname will open all bookmarks in that folder.
Make bookmark for search
Custom search engines (topic big enough for separate post) work similar to nicknames. Typing following in address bar
g rarst
will search for "rarst" in google. This can be used in bookmarks as well, creating bookmark with same line instead of address makes it perform that search each time it is opened.
Create buttons from bookmarks
"Show in personal bar" creates interface button for bookmark… well in personal bar. Trick is - this button can be moved to other panels. Feel limited by having only one home button? Hold Shift and drag'n'drop bookmark (from personal bar or bookmark panel/manager) near there - or elsewhere. Combining with nicknamed folder you can have button that opens whole bunch of sites.

Create sidebar panels
"Show in panel" creates separate panel that contains bookmarked page (F4 hotkey to show panels). Looks like this (right one is with View > Small screen option on):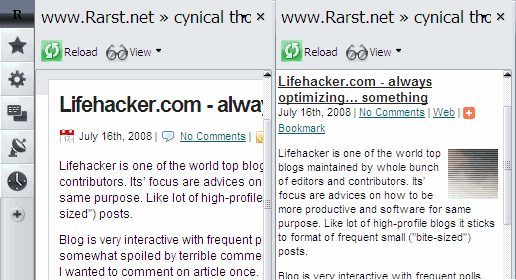 Such panels are great for reference sites you want easily accessible but without one more tab and clutter it creates. There are plenty made for this purpose but usual pages can blend in as well. Piece of secret wisdom - try using pages optimized for mobile devices in panel, works great. Good example is wapedia.
Refresh RSS channels
RSS feeds are not closely related to bookmarks but can also interact with them a bit. Opera doesn't provide easy way to refresh RSS channel manually (it can be accomplished by opening RSS panel > clicking channel name > pressing F5). But luckily opening RSS link for channel you are already watching refreshes that channel. So bookmarking RSS like http://feeds.rarst.net/rarst-posts makes bookmark that performs channel update. Downside - it might leave tab with feed open.
Very fast access to most used sites
Speed Dial is feature simple enough to be great and doesn't need complex describing. It's only unfortunate that most of above won't work with it because it always appends http:// to URL and breaks those.
Sync bookmarks over Internet
Opera Link online service doesn't modify bookmarks in any way. Instead it allows to have same bookmarks (also Speed Dial and notes) on any PC running Opera (or any other browser by accessing Opera Link page) and even mobile phones running Opera Mini.
Create complex bookmarklets
More advanced technique is putting JavaScript into bookmark. There are plenty of possibilities in these so-called bookmarklets. It's not very popular even among power users as it is straying into programming area a bit.
Know more ways to use bookmarks in Opera? Share them in the comments.
Link http://help.opera.com/Windows/10.60/en/bookmarks.html
Related Posts