It is a nasty quirk that when I mention something in the post it starts to slip my mind that it could really use a proper write-up. I had briefly mentioned WolframAlpha is the post about going beyond Google in search.
WolframAlpha is a site that describes itself as computational knowledge engine. Let's go over what that is and is that worth using.
What it does
Basically WolframAlpha is non-web search engine. Instead of trying to index and search all if Internet it tries to interpret and run your query against its own database. Admittedly its database in turn gets filled from fitting Internet sources (among other unnamed things).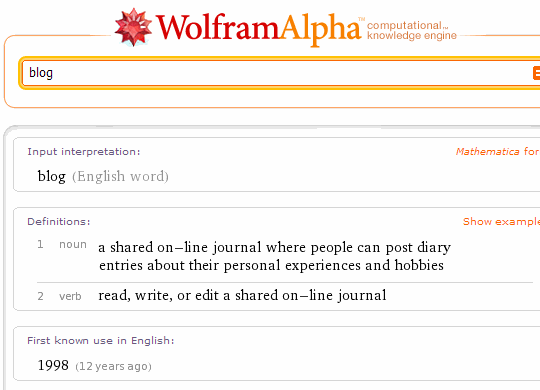 The point is that instead of giving you something site gives you precise scientific/statistical data.
Strong features
many many kinds of supported data;
in many cases site not only gives you answer, but actually performs calculations to get it;
similar data sets can be easily compared (stocks of two companies, weather of two cities and whatever else);
for many queries (like weather or financial data) there is history of changes over years.
Downsides
The display of results is sluggish. In age of effort to make web faster WolframAlpha really takes its time to think before giving you an answer. This isn't terribly bad, but not too suitable for chains of rapid queries.
The strength of specific data is also the weakness. There is no way to know if you will get an answer until you try.
Overall
At worst this is a killer calculator. At best (that is site works well with specific data you need) it is awesome computational mechanism with potential to save you plenty of time.
Link http://www.wolframalpha.com/
Related Posts