Lately I've been messing with command line and file copy especially to automate some stuff.
SS64 site came up a lot in google searches so I went over it properly. It is minimalistic and extensive guide on command line for multiply platforms.
What it offers
Site has reference for commands on multiply consoles, including but not limited to Windows, OS X and Linux.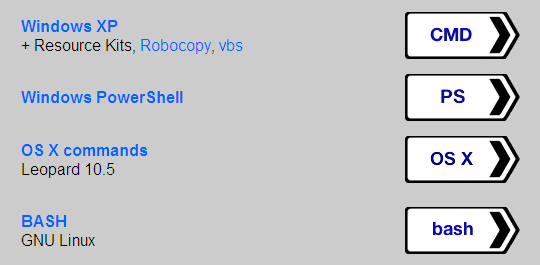 Commands are organized into alphabetized lists. Or there is search if you don't know what command exactly you need.
Strong features
What I like most is extensive examples and usage notes for commands. While switches themselves are not hard to look up, commands are easier to figure out from practical scripts.
Site also lists analogue commands for other platforms, very handy to transfer scripts between platforms or upgrade from deprecated commands.
Downsides
Only thing I lack is proper site map. It seems like alphabetized lists are most and only content, but actually there is more to the site with plenty of useful pages on specific issues. Those additional pages are only accessible via breadcrumb links on top of screen and easy to miss.
Overall
Excellent and maintained reference with practical examples and active forum.
Link http://ss64.com/
Related Posts