I had more or less cleansed my life from variable pieces of paper covered by cryptic notes (my handwriting utterly sucks). Still I can't purge it from the world altogether and I was always tortured by thought – why hadn't someone improved insanity of scribbling on pieces of paper.
PocketMod is just that – way to turn sheet of paper into tiny and tidy 8-pages notebook.
What it does
There are several definitions to PocketMod:
overall it is an imposition algorithm that allows to easily fold sheet of paper into booklet of eight pages;
more practically it is a site of same name that offers web app to create such booklets and pre-fill pages with content.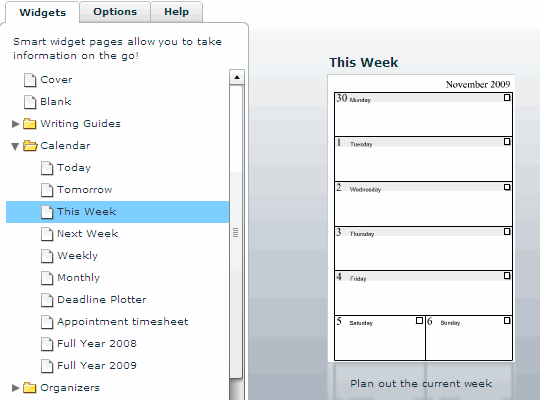 There are quite a few templates available, from classic organizer elements (calendars and lists) to game templates (perfect for those who prefer their sudoku on paper).
Strong features
PocketMod combines low commitment of napkin with tidiness and features of organizer. It is easily tailored to personal needs and can work for any time span from single month to single day.
There is also small desktop app to convert any PDF in PocketMod. Doesn't seem very polished and had crashed on some of files I tried.
Downsides
Sadly site seems abandoned by developer and concept hadn't got enough traction and recognition for solid alternative tools to appear.
Of course you can use folding technique even with blank piece of paper but I think that templates are really valuable part.
Overall
Personally I am not organized enough to use PocketMod consistently. :) And I rarely remain without some notes-capable electronics in sight.
But I can appreciate value and wits that went into this. It's not surprising that there are still avid fans of PocketMod around, who knows maybe you will become one too.
Link http://www.pocketmod.com/
Spin-off http://repocketmod.com/
Related Posts