I had posted about Google Safe Browsing, that tells if site (and its online neighborhood) considered harmful. Checks by Google make sense, but are too light on details.
Site Advisor from McAfee is similar online service that provides more details on site safety and sites it is affiliated with.
What it does
Site Advisor core offer is browser plugin (only IE and Firefox are supported) that like many of its kind equips search results with safety indicators. Since I consider such approach enumerating badness, and so security bullshit, no kudos from me here. On to useful part.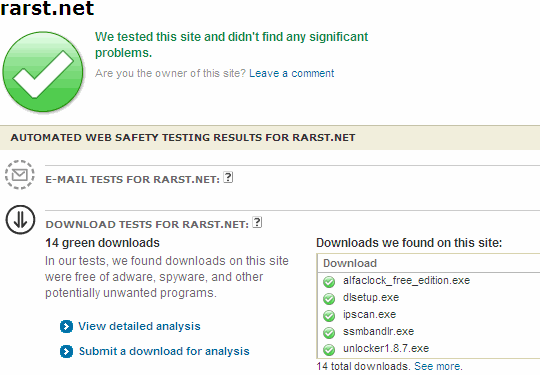 Site also offers convenient security reports on sites that you can search for without installing their plugin.
Strong features
All files that site directly links to (hosted on same site or others either) are analyzed for viruses.
It is smart enough to recognize files that are safe, but often branded as hack tools (Angry IP Scanner for example). There are also icons to indicate if file is associated with nags like browser toolbars and home page changes.
Report on associated sites is not as thorough, it only shows several sites – as I assume most linked to. They are color-coded and linked to respective reports of their own.
Downsides
There is also section for user reviews and as usual it is far from impressive. For sites I looked up there are mostly few reviews. Almost always some percent of them is bogus in paranoid or simply misguided way.
In any case random person online is not a good source of security information.
Overall
Site does good job with evaluation of linked files and sites, but not much more. Easy to use which makes it good for fast checks.
Related Posts