Anyone who had tried to cleanup folder with few thousand images knows how disgustingly complex it is (those who had not can make a guess).
Most of utilities for duplicates search rely on file sizes and binary matches. Doesn't work for images which can be present in different sizes, formats and even cropped differently.
VisiPics is specialized duplicates search tool that can analyze actual image content for comparisons.
What it does
VisiPics processes folders you specify and searches for groups of duplicate images.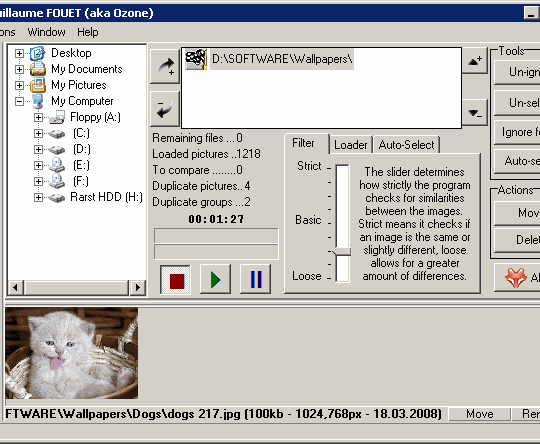 There are few counters that show how fast images are loaded and compared. Loading is only needed once per session and can be used for re-running multiply comparisons with different settings.
Results can be processed manually or VisiPics can make a guess which duplicates are of worse quality by image dimensions and file size.
Strong features
excellent performance;
makes use of dual-core processors;
supports JPEG, BMP, GIF, PNG, TIFF, PCX, TGA and RAW formats;
detects rotated images (good option for photos but much slower);
easy (single slider) to control how precise comparisons must be.
Needs and wants
My only gripe is presentation of found images in thin column. When there are lot of those it gets split into pages and is very inconvenient to browse through.
Overall
Awesome freeware app that works without installation and gets task done perfectly. Development is slow (around one version a year) but steady and with continuous improvements.
Home http://www.visipics.info/
Download http://www.visipics.info/index.php?title=Download
Related Posts