I have covered JkDefrag which is excellent application for defragmentation. There is however one limitation enforced by Windows itself – defragmentation applications have no access to files locked by system such as registry and swap file.
PageDefrag (also known as System File Defragmenter) is utility from Sysinternals for defragmentation of locked files.
What it does
PageDefrag displays current fragmentation levels of system files (less fragments is better) and offers to setup one-time or every boot defragmentation of those.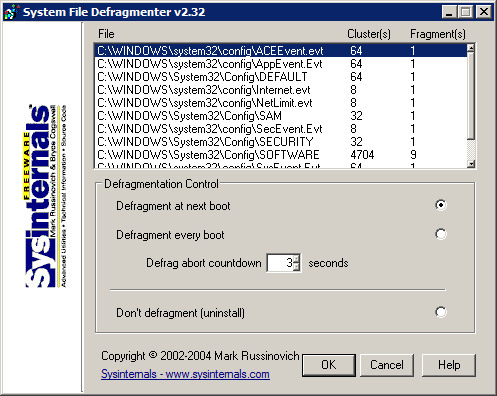 Defrag is performed in special pre-boot environment. You had most probably seen chkdsk utility running in there after improper Windows shutdown.
Usage
PageDefrag is no replacement for normal (and regular) defragmentation but it covers hole in functions of usual apps. Running it every boot would probably be excessive. Still it is good to check fragmentation level of system files from time to time and run as needed.
Overall
Tiny, single-function, useful. As rest of Sysinternals utilities writes some minor registry entries but works without installation.
Home&download http://technet.microsoft.com/en-us/sysinternals/bb897426.aspx
Related Posts