I had bookmarked this one from GSI parser post at ghacks and turned out I didn't really got how nifty this thing is. I got to properly test it and it turned out light and easy to use, honestly not something I tend to expect from most Kaspersky products.
GSI is software module that gathers system information plus site that analyzes it.
What it does
You start by downloading software module. It is relatively light (~600KB) and completely portable so can be used right away. It prompts for place to save report and if you want to submit it online automatically.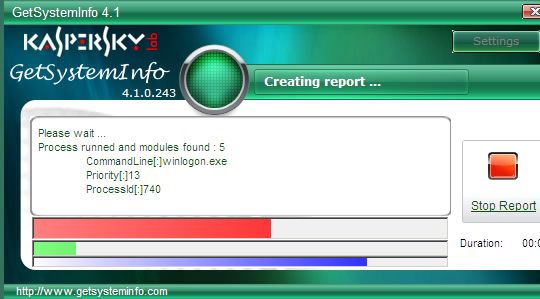 After that it scans local system and (duh) saves report and submits it online. Report itself is simply a roughly formatted plain text file with data. Online results are much more interesting. They are presented in kind of web app with multiply tabs and break down loads of configuration and software information.
Strong features
Very comprehensive scan – software, services, drivers, network ports and more are all covered.
Online results are hosted with public (randomly generated URL) and so can be easily shared. According to forum they are retained for 30 days or you can erase them manually if using free account on site.
There are command line parameters (see list with /? ) that allow to run and gather info silently.
Downsides
Online results are nice but it would make sense for app to have some display mode as well. Text files are convenient in general, but not that convenient when they contain dozens of kilobytes of technical data.
Scan results repeatedly stressed that Comodo Firewall is potentially incompatible. I assume that this is as for other Kaspersky products, anti-malware software doesn't play well with each other. Still such statements in regards of stable and proven software can be confusing.
Overall
Light and convenient tool with excellent and easily shared online analysis of results.
Link http://www.getsysteminfo.com/
Related Posts