I am bad with exact dates. Rough gut feeling of days till weekend is most I can manage. And Windows is surprisingly bad at presenting time.
I had covered AlfaClock for customizable tray time display but on the go something lighter and portable is needed. TimeSentry is exactly that.
What it does
TimeSentry is tiny utility with interface that consists of calendar and some menu items.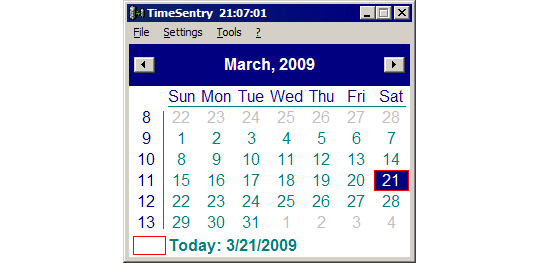 It can perform a number of useful (and useless) functions, all related to time and date:
copy date to clipboard;
find out week and day number in year;
get time zone info;
get uptime and Windows install time;
jump to system settings for time and region;
calculate time between any two dates;
set alarms.
None of these are advanced functions but packed in small and convenient interface they add up to very nice utility.
It is also supposed to sync local time with network servers but this function stopped working for me lately.
Overall
Small, freeware and completely portable utility for those who need some help with time calculations.
Home&download http://www.xtort.net/xtort-software/timesentry/
Related Posts