There weren't much functionality added to antivirus solutions in years. See file, freeze, determine if it is malware, unfreeze or kill. So much of progress is focused on specifics of these steps.
Panda Cloud Antivirus is (supposedly) light solution that uses constant Internet connection to improve on classic antivirus steps.
What it does
As for main function this one is usual background monitor that sits in the tray and checks the files.
The main difference is that instead of regular database updates it checks for information about files online (I assume by transferring file hashes or something like that). When connection is not available it relies on some amount of cached data.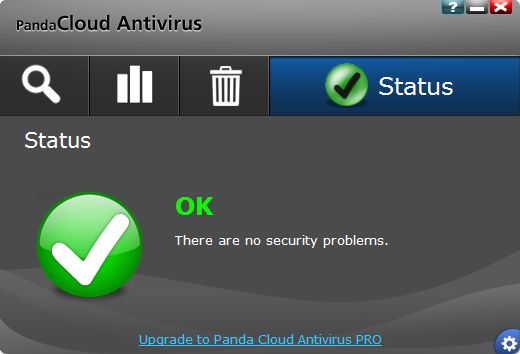 Interface is done in fancy/minimalistic style. Few large buttons, clear explanations where needed, no confusing terms.
Panda is often described in reviews as having light memory footprint. Not exactly true. Interface process is indeed light, consuming as little as 4-5 megabytes of memory. But there is also background service that hovers ~20MB when idle and can easily jump as high as 75-100MB.
Strong features
As for me interface is strongest part. It is the most straightforward interface experience I remember in background antivirus monitors. It doesn't flood you in see-I-am-awesome junk, it gives you essentials.
Experience seems to be tailored towards novice users. If virus is detected Panda only gives brief non-scary (important) popup in the corner and file is deleted. No flashing red light or unneeded questions, that confuse the heck out of users.
Panda is known for their developments to autorun as malware delivery method and monitor stresses that autorun is being disabled.
Downsides
Cloud part is marketing speak as for me. I don't see any technical difference between downloading database updates and downloading cloud data to cache.
On other hand there is no way to perform manual offline update. Useless for computers not connected to Internet, easily disrupted by malware.
Settings are lacking. "Advanced" dialog is a joke with some log-related options and primitive file/folder exclusions list (no wildcards).
Free version limitations
No support is a given. Other than that there are two main limitations to free version:
nag screens; mostly in options on some pro-features, but in a week of using it had once popped up on PC boot;
no auto-update of engine; major downside even if updates are infrequent so far.
Overall
Techies are unlikely to drool over this one. However interface experience makes it compelling choice as home/family antivirus. No automatic upgrades of engine in free version is only thing that limits it from perfect as such.
Home&download http://www.cloudantivirus.com/
Related Posts