Bookmarklets are very useful to perform and streamline menial tasks in any browser without regard to extensions/plugins support. They are hardly mainstream but they do get more attention in recent years and there are now handy web resources.
Marklets is a site with large collection of bookmarklets.
What it offers
Site has a lot of bookmarklets with short description for each. Selection of bookmarklets seems to consist of:
native solutions from across the web;
adaptations of userscripts;
exclusive user submissions.
Design suggests search as main method to look for bookmarklets, but you also can browse list with several sort options.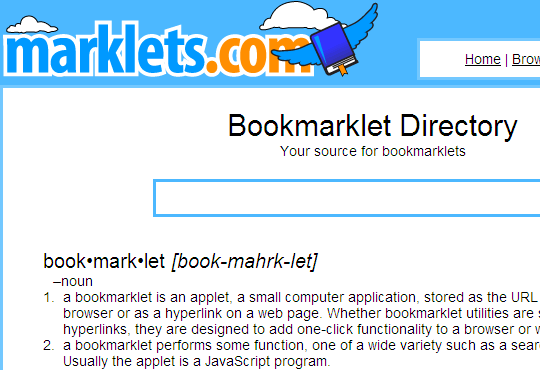 Bookmarklets can be rated and visitors can sign up to leave their comments.
Strong features
I am not following topic closely, but so far this is largest and most comprehensive directory I had encountered. There is a lot to browse and choose from, most important thing for bookmarklets that are still scarce overall.
There is also bookmarklet for site itself that creates quick search box in the corner of opened page.
Downsides
It could really use screenshots for more graphical bookmarklets.
Ratings seem unreliable. One of bookmarklets is currently both recently submitted and high-rated, which I find unlikely. It probably just takes votes average with is poor way to handle ratings.
There are tags, but no way to easily browse them or bookmarklets by category overall. Big pile of stuff with search ending up only viable navigation.
Overall
Site is little hard to explore but collection is extensive and steadily growing.
Related Posts